Auckland's craft cocktail revival of yore has lead us into a glorious age of heightened imagination, innovation, and options for a delightful tipple.
A creative quaff can now be procured in all corners of Auckland, but here we will focus on our favorite spots in the central city area, including K' Road, Britomart, and the Viaduct.
From speakeasies garrisoned by mustachioed mixologists to bars playing up postmodern experimentation to, yes, sundrenched rooftops that some might call basic (but we love all the same).

Indeed these are intoxicating times for Auckland's effervescent drinks, and this list manifests the very best haunts in which to procure a genuinely memorable cocktail.
Whether you're looking for the ideal place for a classy pre-party cocktail or a cozy corner to settle into, look no further than our top 10 positions in Auckland CBD to kick back and enjoy an aperitif (or three!)
---
Level 1/12 Wyndham Street, Auckland CBD
Tucked away on the (almost) corner of Wyndham & 151 Queen Street, Little Culprit is an eclectic, contemporary, and unpretentious cocktail bar and kitchen over the road from big brother restaurant Culprit.
Their claim to fame is their gorgeous front bar with a view out to the street (perfect for quick drinks or solo fliers) and an impressive cocktail menu that effortless blends new age with old school.
Check out their lengthy cocktail list packed with innovative takes on classic drinks like the April Sun (wax-washed rum, lime and a cherry cola reduction) or ask for a Boot Liquor to enjoy a mystery libation from the old boot over ice.
Ideal for after-work drinks being so centrally located in mid-town, though we also love to head back into their dark and decadent lounge (complete with velvet curtains and lavish leather booths) for an intimate end to a date.
490 Karangahape Road, Auckland CBD
Brought to you by the ingenious mind and vivacious host that is Pablo Arrasco Paz, Madame George is a small restaurant that packs a punch. Spilling over onto the K'Road sidewalk, get cosy in this space with a vibe that is equal parts minimalist, hip and sophisticated.
A celebration of Peruvian + Latin flavours, sip on the best pisco sours in Auckland or try the MG Negrong with toasted cassava pisco, Campari, and beeswax aged vermouth – a refreshing and unique take on the classic drink.
Frequently named the absolute best cocktail bar in Auckland, the food here is just are inspired and worth a trip in its own right. Perfect for evening catch-ups in the fading sun or a special meal with expertly matched cocktails that won't be soon forgotten.
99 Halsey Street, Wynyard Quarter
After spending your day sailing (or strolling around the new Wynyard Quarter Preceint), The Captains Bar is a stylish place to quench your thirst and dive into the sophisticated menu of light bites designed by Argentinian Chef de Cuisine Leo Minelli.
You'll be impressed by their vast selection of liquor (with over 60 varieties of rum) and the knowledge of those behind the bar. They have a well-curated range of pseudo-molecular cocktail concoctions – and even a few selections offered designed for two to share, including the divine White Cloud (QBF, Tito's Vodka, Chocolate Bitters, Cloud Float & Raspberry)
Pro-tip: Take a seat outside in the summer to enjoy some of the best views of Auckland CBD, which is a topic of conversation in itself.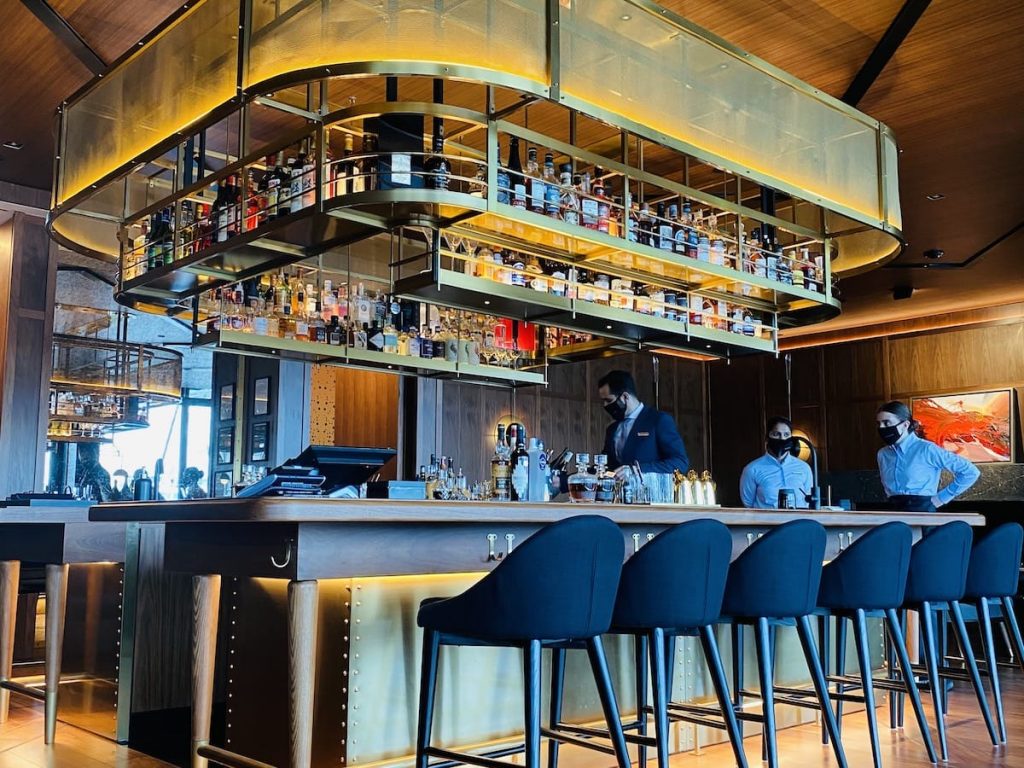 Downstairs, 40 Customs Street, Britomart
Caretaker is a dimly lit, intimate New York-style speakeasy lounge hidden down some stairs and behind a door covered in cleaning supplies.
Like Hogwarts, but for adults, Caretaker is inspired by the golden era of bartending, and the libations here are bespoke and crafted to each individual.
Yes, that means you will need to trust your host to suggest the perfect drink for you – but trust us, you will never be disappointed by the animated creations the expert mixologists shake-up for you. They will even make you another one free-of-charge if you don't like it.
Should you be a little less courageous, there is an ever-changing menu to go off – but this just isn't nearly as much fun.
Three times a week, live bands perform, which provide a wonderful backdrop to a special evening and only add to the air of Prohibition and mystery. Oh – and did we mention they are open until 3 am every night of the week? A rarity for any bar in Auckland, let alone one of such high calibre.
The sister joint to Deadshot, a similar concept cocktail bar in Auckland located just outside the CBD in Ponsonby, which sadly means it couldn't be included here.
90 Federal Street, Auckland CBD
When you mix passion, Japanese cocktails, and an ultra-modern yet somehow warm fit-out, you get Masu, a cooler than cool bar in the heart of Auckland's Federal Street dining precinct.
Offering cocktails, shochu infusions, and cleansers have been designed to complement reflect seasonal flavour along with exciting spirits and designer glassware direct from Japan; Masu is the place in central Auckland for cocktails inspired by the Land of The Rising Sun.
If you want the ultimate experience, jump into the hot seat at the bar and watch as the masters work their magic (their bartenders are dead serious about their craft) or sit alfreso, and people watch as you imbibe into the wee hours of the night.
Our favorite drink? The mi-so stormy, a spicy, refreshing umami bomb of savory white miso, ginger, dark rums, and bitters. A close second is the intensely fruity plumberry sawa with blackcurrant, citrus, cinnamon, and orange-spiced umeshu. They also have their own exclusive sake brewed by boutique sake producers, Zenkuro Sake of Queenstown.
And for those who enjoy their drinks with a splash of mystery, ask the Masu bartender for a surprise cocktail based on your favourite flavour profile (sweet, salty, sour, bitter, or umami) under which the cocktail menu is helpfully divided into.
7 Fort Lane, Auckland CBD
A fixture of Auckland's cocktail scene, the Jefferson is yet another bar to pop up in the Fort Lane area. However, unlike its neighbouring clubs like Everybody's with a decidedly different (read drunken) vibe, the Jefferson is chill and decidedly cool.
From grain to still, barrel and bottle, this is where you are going to find Auckland's finest whiskey and rye selection with a vast collection to keep hooch hounds content. At last count, it was over 600, so you are going to need to get specific if ordering a dram.
While The Jefferson offers a journey through unique single malts, bespoke bourbons and rare blends, the class, character and yes, cocktails are also reasons to visit and sip drinks in the plus purple booth or under the soft glow of amber bottles.
Try the Davis Jr (Rum, Gingerbread, Pineapple and Lime) for a tropical dessert after a meal out or the Van Dooren (Absinthe, Cointreau, Coconut, Cashew Orgeat) if you want an objective combination of beauty and beast to fuel you through to the wee hours of the morning.
Commercial Bay Level 2/1 Queen Street, Auckland CBD
A fun and delightful Mexican-inspired tequila and mezcal bar, Ghost Donkey in Commercial Bay is a direct export from the USA – being its third location after New York City and Las Vegas.
Normally we would avoid any spot simply because of its chain status, but Ghost Donkey is unique (in Auckland at least) with its offering of nachos especiales, gourmet cocktails, nightclub-esque vibes and twinkly fairy lights above.
The New York City location won Imbibe's Cocktail Bar Of The Year back in 2020, and this outpost is doing its heritage justice with a Mushroom Margarita (huitlacoche infused vida mezcal, Cointreau and lime) and an incredible Mezcal Negroni.
Being located in one of Auckland's top malls only seems to have made this place even more desirable. If you arrive late and night, your chance of getting past the over-zealous door person is limited unless you are a C-list celebrity or above.
By which we mean ore visit (it is still one of the best cocktail bars in Auckland CBD after all) by perhaps go on a weeknight or don't leave it too late.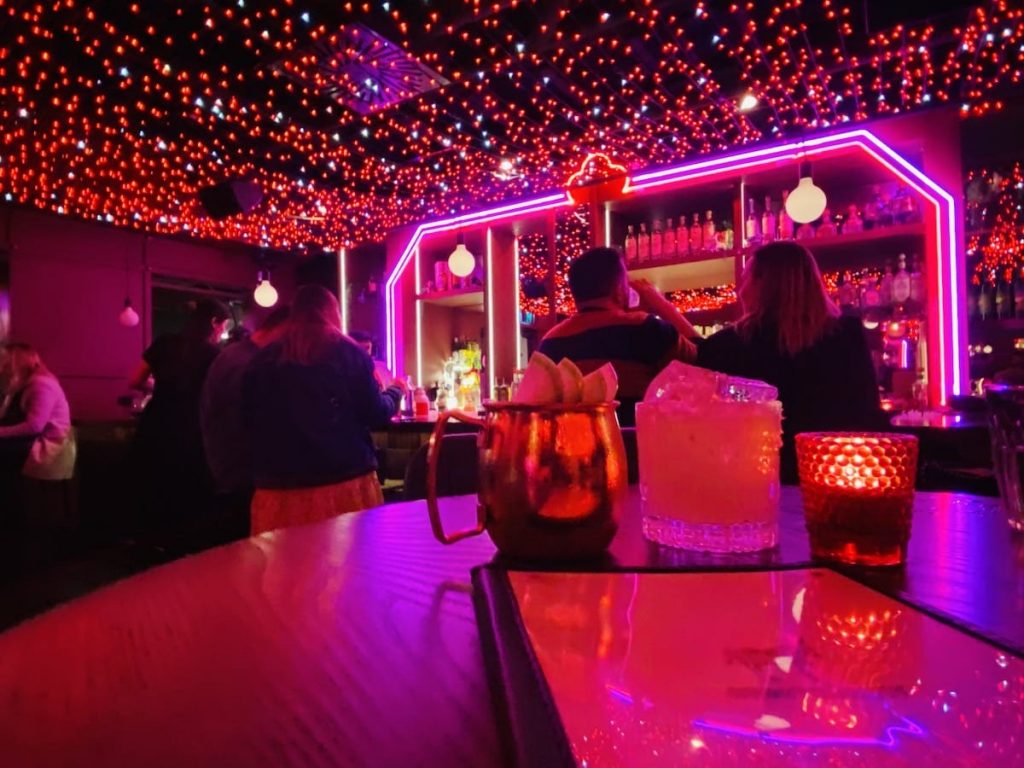 354a Karangahape Road, Auckland CBD
The barkeeps at this secretive K'Road haunt hidden behind an indistinct blue door are liquor literates who've earned the right to be a bit self-assured as there is simply no denying their prowess in mixing well-crafted drinks.
Once your find the entrance (it is there, we promise), you'll be welcomed by red velvet curtains, portraits of musical icons, a long wood bar and narrow confines that lend a moody and intimate air ideal for sipping and savouring.
The seasoned and loyal clientele are longing to be taken out of their comfort zone by the alchemists tending bar, all of whom are more than happy to oblige. It is a labour of love, with the mix of cool, weird, wonderful and unpretentiousness that is so quintessentially K'Road. Think gourmet hotdogs from the kitchen, Peach wine from France and the cocktails – oh the cocktails.
The menu is frequently changing, but a mainstay seems to be the Bounty Bar (a tropical holiday in your mouth that has to be tried to be believed) and an Absinthe martini that comes with a warning direct from the bartender before you are allowed to order.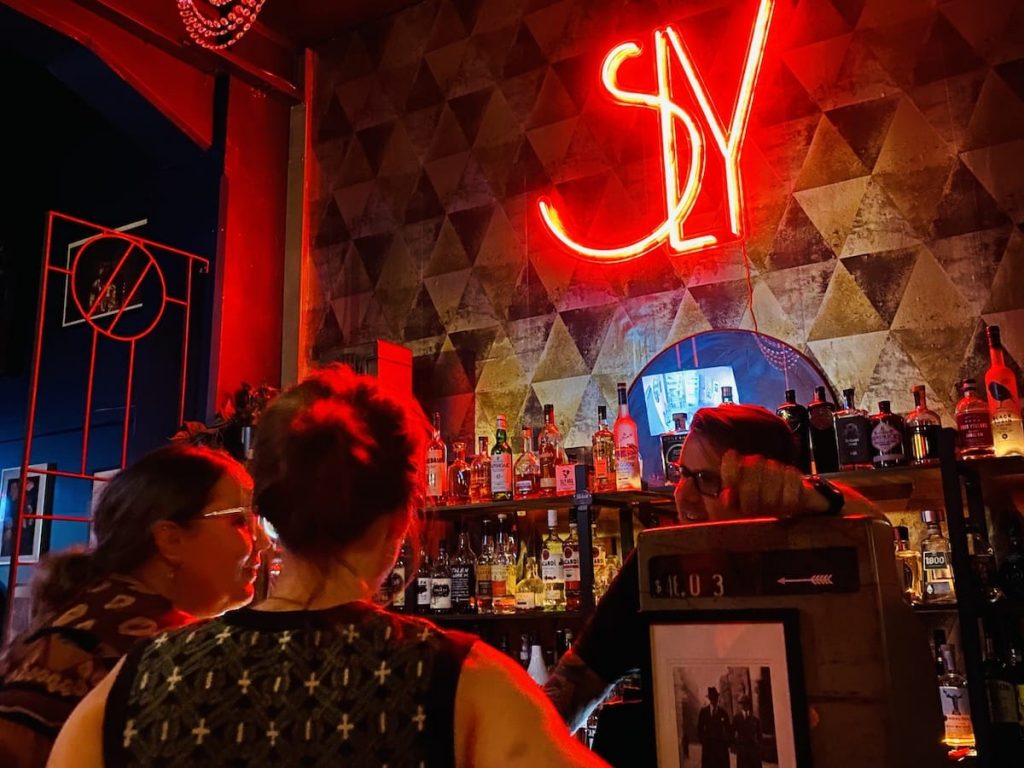 2 High Street, Auckland CBD
There's no bemoaning Auckland's cocktail scene any more, certainly not with the likes of this gorgeous speakeasy-esque beauty that draws the envy of many a tippler. Well, at least those who are lucky enough to be in the know about this roaring Twenties inspired spot.
Hidden upstairs in the Art Deco-inspired Hotel de Brett, the cocktail creations here are just as classy as the wood-panelled interior, though nowhere near as dark and moody.
The necromancers behind the bar conjure an assortment of elixirs guests can't help but be impressed by, from the contemporary Flower Bubble (crafter flower gin, rose, lime juice, passion fruit, blueberry) or King Sour (monte Alban mezcal, lemongrass, green apple, egg white) to the classics like espresso martini and old fashion.
It is rare for a spot to have such a diverse array of offerings, yet delivers them all so excellently – and more unusually still, the place is often half-empty (which is how we like it!).
Auckland's loss is your gain, but if you are seeking the crowds, you'll need to head here straight after work or during one of their infamous boozy High Teas.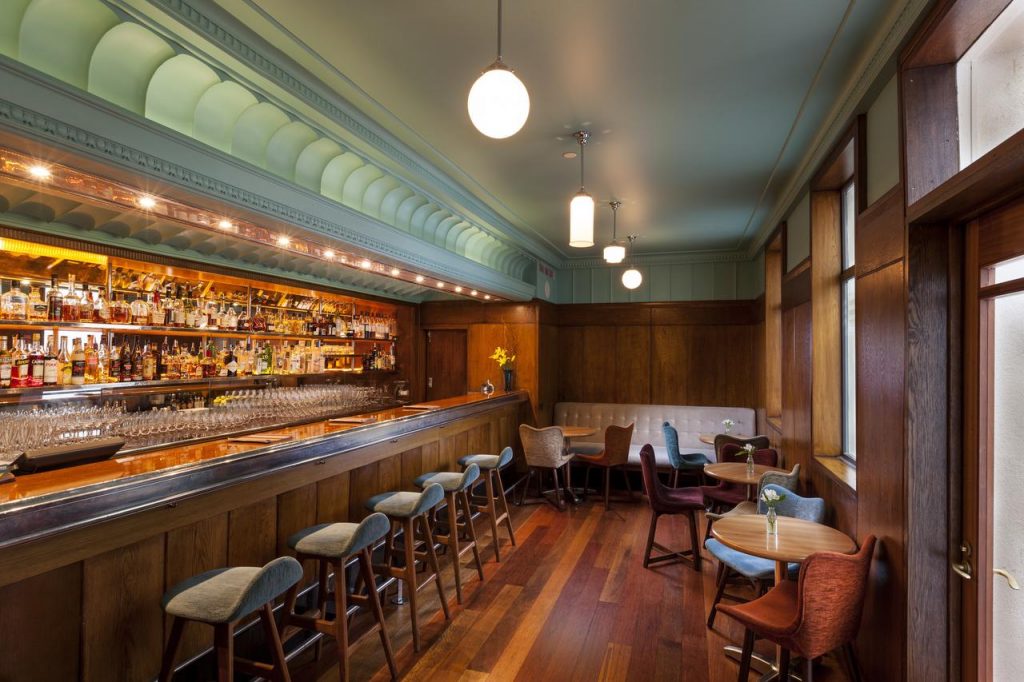 83 Symonds Street, Grafton
One of Auckland's newest destination bar, Our Land Is Alive, is a faithful celebration of New Zealand and a worthy stop for an eclectic selection of locally sourced food and beverages.
Inspired by Aotearoa's magnificent landscape, unique flora, and fauna, and exquisite local produce, the new bar is located at the main entrance to the recently renovated Cordis Auckland hotel. Flaunting a thoroughly-modern interior and a refreshing al fresco courtyard surrounded by leafy native plants, 'Our Land Is Alive' aims to be a neighborhood bar with a twist.
Their expert mixologist can whip up Kiwi-inspired cocktails, and you'll be in no hurry to leave as you enjoy these (and an enticing array of tasty Kiwi bites) on the reclaimed Kauri-wood bar under a hand painted 'long white cloud' sky mural on the ceiling by local artist Ross Lewis. Or take your drink and enjoy it by the outdoor fire or in one of their oh-so-magical moss-covered alcoves.
In terms of cocktails, all are inspired by quality New Zealand ingredients and spirits, with some of the stand-outs being the Kikorangi Fizz (with gin, lemon, yuzu, and the magical butterfly pea tea) and the White Cloud (with smoked applewood that you'll want to have your camera ready for).
For tourists or locals alive, Our Land Is Alive is one sensationally Kiwi cocktail spot you will not want to miss.
7/204 Quay Street, Auckland CBD
Even those with a love/hate relationship with tiki culture will find it hard to find fault with this new-age interpretation in the heart of the Viaduct – it's got enough South Pacific kitsch and rum to keep Captain Morgan amused, yet offers exceptional service and thoroughly modern views out over the luxury boats below.
Nostalgia-filled entrance ways and over-the-top cocktail vessels aside, there are some potent drinks to be had, most distinguished of which is the signature, and rum-less, "Pornstar Spritz" – a rose-hued drink of gin, strawberry chartreuse, passionfruit and sparkling wine.
There is also a thoughtful collection of mocktails for teetotalers (which the non-drinkers in Auckland will no is a rarity) and excellent light bites.
A spot that could quickly skate by on the timeless vibes of its sun-drenched deck and views alone, the Parasol & Swing goes above and beyond – and it's a refreshing breath of air in the otherwise very lacklustre offerings of the touristy-heavy Viaduct Harbour.