Living in New Zealand, we're spoiled for choice with incredibly fresh produce and fruit. And we also know one or two things about markets. What arises when you combine these passions together? Farmers markets! And Auckland's just keep getting better and better.
However, you might find yourself traveling every week to the same local farmers market, buy the same products, browsing at the same homemade bars of Manuka soap, chatting with the same Kumura guy, pass the same performers, and feel a little in a rut.
We get it. It is your local for a reason. But maybe it is time for a change.
Auckland is chock-full of fun farmers markets that are, in turn, full of heaps of unusual offerings just waiting to be explored. Imagine what the strawberries taste like on the other side of the city. (Yes, probably like strawberries, but can you really so sure?)
Ever wondered what the markets have to contribute in Clevedon, Parnell, or Avondale? Ever realized that you haven't actually been to your prized Matakana Market in over a year? Just having difficulty finding your preferred summer fruits at a good price? This round-up of the best farmers markets in Auckland could help you (re)discover some of the numerous homegrown delights you might be missing out on without even knowing it.
So, gather your children/ partner/friends/dog/reusable bags and get ready for a fun day out enjoying a specific slice of neighborhood life and character in Auckland's farmers markets.
P.S. If you are just looking to stock up on healthy eating options at these Farmers markets, you might also want to consider do-it-yourself meal kits, fruit and veg boxes, or even pre-prepared meals.
---
Every Sunday, between 5 am-12 pm.
The Avondale Sunday market is one of the largest farmers markets in Auckland and the longest-running market in New Zealand. This international market has ingredients from all over the Pacific and Asian worlds and excels at providing great prices for in-season fruit and vegetables.
It's common to see some of Auckland's best restaurant chefs and wholesale buyers here ordering items from the numerous vendors for use later in the week – and you'll find many vegetables here you won't see anywhere else. In a single day, around 15,000 to 20,000 people pass through, or even more than that, when the once-monthly Antique Fair opens up at the same time.
With a wide array of stalls, artists, crafts, goods, fresh fruit, clothing, and much more, the Avondale markets has a diverse ethnic community of shoppers and vendors, and the freshest produce out west.
Highlight: A wide variety of exotic produce available, like durian and mangosteen, that you won't find at any of Auckland's other farmers' markets.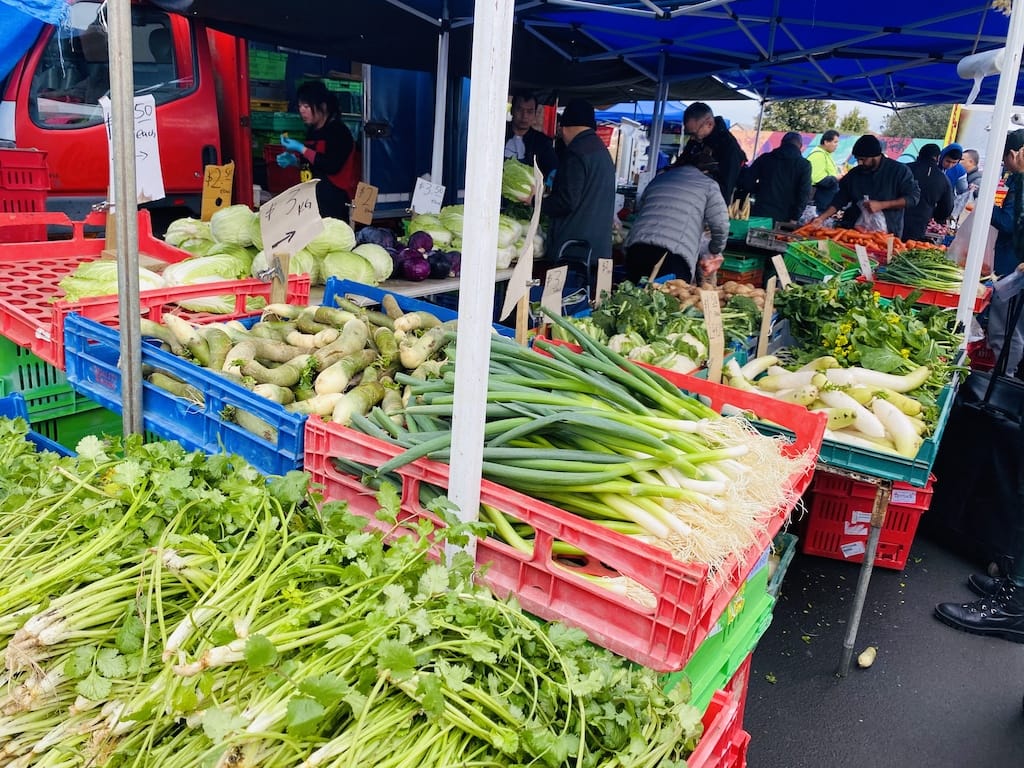 Every Saturday, between 8 am-4 pm.
Auckland's beloved CBD farmer market is bigger than ever with old favourites, new stallholders, and longer hours.
Previously run by the team behind La Cigale, the weekly market at Takutai Square is now under new ownership – with aspirations to expand.
The market's opening line-up includes everything from new produce and flowers to chocolate, organic foods, pastries, sweet buns, crepes, juices, and savory treats. Small and cute, we love being able to just wander down from our apartment and grabbing delights like Scandibunz, Organic Micro-Greens and Philippe's Chocolate Pastries.
After you sort some fruit and veggies for the week, you can either have a coffee and grab something to eat – or go from brunch at one of the CBD's many cafes.
Highlight: The one-meter long traditional French sausages served by Miam Miam.
Every Friday to Sunday, between 8.30 am-2 pm.
The Catalina Bay Farmers Market is an artisan food market that brings new local farm produce, breads, meat, cheese, milk, eggs organics, chocolate, honey and flowers, just to highlight a few!
The unusual atmosphere of live music by the river adds to the exciting ambience and makes the trip out to Hobsonville Point worth it. The Farmers Market is undercover, and adequate parking is convenient (and free). You could also catch a ferry direct from the Downtown Ferry Terminal for an extra adventure.
Stay for a coffee and grab a snack to eat from the range of food sellers, purchase your weekly fresh produce or just look through the beautiful handmade products for offer. Afterwards, there is some great walks trails around or a brewery next door.
Highlight: The small gourmet bakery is superb, with a vegan peanut butter brownie you will never forget.
Every Sunday, between 8 am-1 pm.
Leave behind the hustle and bustle of Auckland City and enjoy the fun atmosphere of Sunday mornings out in rural Clevedon– One of the most famous Farmers' Markets in Auckland founded in 2005.
Be swayed by the seasonal fruit and vegetable selections that have been harvested as recently as the night before, if not early on the market morning. Make the most of the chance to taste and hand-pick the finest provisions and get encouraged by passionate stallholders' who are full of culinary tips and recipes. Customers need to rise early for the most abundant displays, as trade is busy and the most popular products have disappeared by mid-morning.
The delicious cookies, pastries, and espresso available on the market will provide encouragement for early birds. Fill your basket or bag with a vibrant and fascinating assortment of goods and provisions made or produced with over 60 friendly vendors whose mission is to bring safe, healthy and reasonably priced food to Clevedon (and greater Auckland).
There is also another Sunday market in Clevedon Village (different than the original farmers market) which you should stop in at afterwards as it always an interesting range of quality arts, crafts, produce, gift and market lines.
Highlight: Everything. There is even a little farm area with horses and donkey for kids — and plenty of cute dogs everywhere.
1st Sunday of the month, between 10 am-2 pm.
One of Auckland's many rural farmers' markets, established in 2007. The Coatesville Farmers Market is a delightful place with a welcoming atmosphere and tranquil setting based around the Old Settlers Hall.
Expect plenty of home-made New Zealand stalls and chances to support Kiwi-made with incredible foods and home-made wares. A mismatch of everything – the stalls here either make it, bake it or create it. Parking can be a bit difficult in winter conditions as the surrounding fields get boggy, but arriving early is always a good idea.
This way, you can explore the wonderful array of crafted goods, produce and food trucks before the crowds arrive.
Highlight: The community that gathers here with people relaxing on blankets and benches, enjoying the delicious offering food.
Every Sunday, between 8.30 am-12 pm.
A 100% community-owned and operated food market providing a local alternative to supermarkets for the inner-suburbanites of Grey Lynn. Look at all the beautiful veggies!
Take a bunch home, cook, eat and enjoy—you didn't even have to fight the big farmer's market crowds to enjoy your dinner. It's not super cheap but on par with local supermarkets and unquestionably better quality. Plus you'll be supporting local producers, which is why we love Auckland's farmers' markets in the first place.
Highlight: Finding non-homogenised organic whole-milk and the best kale in Auckland!
3rd Sunday of the month, between 9 am-2 pm.
Very much a hidden gem of the Auckland farmers market scene, the Kaukapakapa Village Market has plenty for everybody, with welcoming people, a pleasant environment and quality handmade crafts at bargain prices.
Held in the local hall, there are both indoor and outdoor stalls offering everything from handcrafts to locally-made outdoor furniture, fresh fruit, pastries and desserts, sustainably produced plants and seedlings, beauty goods, natural skincare, cosmetics, toys, bric-a-brac, and more.
There is also live music from a rotating selection of musicians from the local communities.
Highlight: The free face painting is always a draw with the kids.
Every Saturday and Sunday, between 9 am-1.30 pm.
A fabulous little farmers market in Parnell influenced by France's beautiful food markets. You'll find an impressive range of high-quality products from independent growers and farmers from New Zealand as well as internationally.
Shop for your artisanal needs over the week with ample fresh fruit, hot fresh bread and pastries, French cheeses, high-quality export products, smoked Akaroa salmon, nutritious salads, flowers and orchids, Italian pasta and much more. And all with the tempting aromas of rotisserie chicken and paella cooking hanging in the air – just like in France.
La Cigale is not exactly the place for affordable produce, but the quality and variety of products here cannot be beaten.
Highlight: Enjoy a strong coffee and a fresh pain au chocolat with the gorgeous smells, colours, tastes and textures swirling around.
Every Saturday, between 8 am-1 pm.
Slip into artisanal bliss at the Matakana Village Farmers' Market, a real paradise for food with an emphasis on new, organic, and local handmade products. There's plenty to taste and cherish, from award-winning espresso to mouth-watering brunch plates.
Relax to live local music by the riverside, and let the kids enjoy the woodsy treehouse and outdoor playground. One of the most luxurious farmers markets in Auckland, the Matakana Markets are also zero waste – so take your baskets or bags, and stock up on new fruit, herbs, breads, candy, and deli treats without feeling bad about all the excess plastic.
Perfect for a gourmet picnic, a special celebration, or a fun day trip, you can eat, shop, and play in Matakana Village, just 45 min from Auckland. After you have picked up your fresh, local, artisan produce you might enjoy the Matakana Cinema, explore the local shops and galleries, or even organise a visit to nearby Omaio, one of Auckland's best gardens.
Highlight: It might be a little bourgeois, but the oyster and feijoa wine are worth the trip alone.
Every Saturday, between 8.30 am-12 pm.
Mt Albert approaches the whole market thing a little differently – it gives locals a street food market that begins on Friday night at 5 pm and transforms magically overnight into a Saturday morning farmers' market.
The Friday night food trucks selling everything from local classics to global and fusion cuisine with Mexican tacos, Peach's Spicy Chicken, Italian Pizza and Judge Bao along with a licenced bar that offers organic wines and specialty beers. Saturday morning however bring the wafting scent of grinding coffee beans and a range of fresh produce stalls, meat and local cheese to get you through the next week.
There are also organic bakery product, smoked salmon, free-range eggs, Mediterranean delicacies, crepes and colourful flowers.
Highlight: The quirkiness of its former petrol station forecourt location and the deals on Meat which are typically cheaper than the local supermarket.
Every Saturday, between 6 am-12 pm.
The Otara Flea Market (OFM) was established in 1976 and has been an integral part of Otara ever since, expanding in 2009 and changed their name to Otara Markets in 2019 to reflect the change in direction for the future.
Their vision is to be the best market in Auckland – and as of now, they are certainly the most popular with a wide range of food and clothing for sales. There is tasty food like Hangi, Island Doughnuts, Poke, Chop Suey, Pork Buns, Churros, Coconut Bread and more – and more fresh fruit and vegetables than you can shake a stick at.
Not to be overlooked are favourites include Polynesian music, second hand, bric-à-brac, seedlings, organic sauces, pickles – and of course, Maori, Samoan, Tongan, Niuean Art and Culture including tapa, handmade jewellery, Korowai, kete, bone carving, pounamu and lava lava.
More than just one of Auckland's best farmer markets, the Otara Markets is a multi-cultural bonanza with something for absolutely everyone.
Highlight: This is the biggest outdoor market in New Zealand, what is not to love!
Every Saturday, between 8 am-12 pm.
Yes, there is another Farmers' Market in Parnell; however, unlike LA Cigale – the Parnell Farmers' Market is a little bit more 'down to earth' with affordable prices and laid-back vendors! Started by Parnell Trust as another way to bring members of the community together, this is a great place to
have a coffee and stock up on the fresh fruit, vegetables, meat, flowers, bakery items and more every weekend, brought to you by the producers themselves.
Highlight: It is so close to the domain, so you can fill up your basket and enjoy a sunny picnic in the park afterwards.
Last Sunday of every month, between 9 am-1 pm.
The monthly Village Market Day at Puhoi proves that good things do come in small packages – which is why we love this small, quaint Farmers Market held across the river from the Puhoi village centre.
On offer is local fruits and vegetables, eggs, coffee roasted in Puhoi, fresh juices, breads, chutneys and sauces, desserts and sweet snacks, tasty vegan and gluten-free foods, as well as a range of herb, native and vegetable plants for the garden. Then there is the ethnic cuisines from around the world (including India, Holland, Jamaica, Argentina, and the Czech Republic), local olive oil and honey, exquisite jewellery, fragrant soaps, beauty goods and crafts.
A special aspect of the Puhoi Farmers market is the community table, where farmers with limited amounts of produce can sell at no cost or can sell or give away seasonal surpluses. There always some old-fashioned or unfamiliar fruit and vegetables to be found here, and stallholders eager to tell you how to use them.
A charming Bohemian village situated just on the other side of the Johnstone Hill tunnels, why not make it a day trip with a stop at the Puhoi Cottage Tearooms and a visit to the historic pub.
Highlight: The great Dutch cheese and organic nuts for sale. And the general yesteryear town vibes of Puhoi.
Every Sunday, between 6 am-12 pm.
People come from all over to check out the idyllic Sunday Market at Takapuna Beach, one of the biggest and most vibrant markets in the Auckland area. A great flea market with a number of stalls selling artists, crafts, fruit, vegetables, baked goods, meats, flowers, plants and more.
The Takapuna Markets have been running over for over 30 years now, yet still remain relatively relaxed and well-spaced out. Located close to the beach, a perfect Sunday morning involves browsing the market, walk along the beach and then finishing off with snack at one of the nearby cafes.
Highlight: The whitebait fritters and proximity to the beach.
Every Saturday, between 7.30 am-1 pm.
Te Puna Market is a weekly market held right in the heart of West Auckland in Henderson. On offer is a variety of fresh fruits and vegetables, natural-made products and occasional workshops around kai.
Run by Kai West — this market seeks to foster a vibrant sustainable and local food infrastructure funded by community collaborations, thus improving access to healthy quality fresh food and promotes good wellbeing in the area.
While it is still early days for Te Puna Market, which only launched in 2020, it has so far been very successful – and besides from the local produce, there is live music, artwork and weekly workshops on everything from making kombucha and composting to Rongoā (traditional Māori medicine).
Highlight: The laudable aim to help connect and strengthen communities through food.
The last Sunday of every month, between 10 am-2 pm.
Titirangi Village Market is one of the best farmers markets in Auckland to find a present, get all your foodie delights and check out the newest art and crafters work. An integral part of the heart and soul of Titirangi culture, what this market lacks in produce its makes up for in style and substance.
There are typically around 140 stalls inside and out, and after you are finished, you can continue out to the West Coast beaches or for walks in the Waitakere's.
Highlight: Some of Auckland's best folk musicians perform here each weekend.
Every Saturday, between 7.30 am-1 pm.
A cute little farmers market in Waiheke – perfect for exploring before a day or wineries. There are stalls inside the hall and on the reserve so if you're looking for a treat, a deal, something delicious to eat or just a coffee (some of the best on the island) or get-togethers with friends then this is the place to go.
There is loads of tasty food to eat while browsing and a number of tempting products like Waiheke olives, olive oils, cheese and honey, as well as fruit and vegetable and free-range eggs. And if you are a fan of collectables or bric-à-brac, there is usually a few curious stalls with these too.
A friendly, lively, varied and fascinating farmers market in Auckland for young and old alike.
Highlight: The vibes at this great gathering of all things Waiheke.